07/21/2014 Congrats!
07/16/2014 DS-14 Basic In The Headlines!
07/16/2014 The Guys Are Back!
07/15/2014 HiCOPTERS In Detail
07/15/2014 New From Jeti – MSpeed 450 EX Sensor
Jeti Telemetry MSpeed 450 EX sensor uses dynamic pressure to measure the true airspeed of your model. Dynamic pressure is measured, using a pitot tube, by finding the difference in ram air pressure and static air pressure. The MSpeed 450 EX allows you to set both a low speed alarm and a high speed alarm.
(Full Story)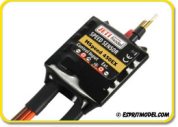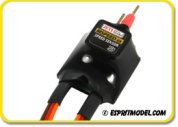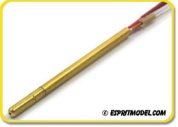 07/07/2014 Where In The World Is Peter Vogel?
07/02/2014 New From Jeti USA: DS-14 Basic
06/25/2014 Jeti Pilot David Soufer Shows Off His New Bandit
06/24/2014 Road Trip!
06/23/2014 Jeti USA Is Now On Amazon
06/14/2014 Jeti Team Member Event Recap
06/06/2014 How To Make Your Jeti Tx A Virtual Caller
06/04/2014 Wireless Trainer Setup
06/04/2014 EDF Jet Jam 2014
05/29/2014 Joe Grice Goes Jeti
05/29/2014 Jeti Central Box Update is Out
05/20/2014 New Training Video from Our Jeti Pilot Peter Vogel
05/14/2014 AUVSI Show A Must See!
05/01/2014 Firmware Version 3.0 For Jeti Transmitters Now Available
05/01/2014 New DS/DC-16 Manual Available
04/23/2014 Meet Richard Bohn
04/23/2014 DS-14 – It's Official
04/22/2014 New Jeti Momentary Button Switch
04/18/2014 Team Pilot David Soufer Shows It Off
04/18/2014 Demon Meet Joe
04/15/2014 Getting Low With Joe Smith At SEFF 2014
04/14/2014 Meet Josh Brannon
04/14/2014 Meet Jeff "Moose" Maruschek
04/07/2014 Weak Signals Coverage: Jeti USA
04/07/2014 Jeti and Bavarian Demon Team
04/04/2014 Jeti Pilots Hard At Work
03/31/2014 Lifting Up The Stars!
03/28/2014 Jeti Equipped Jets
03/28/2014 We Have Grown!
03/28/2014 Jeti Update: Version 3.20 for R3/RSW, R4US, R5US, R6US, R7-9-11US, R14-18US Receivers
03/25/2014 It's Kind of A Big Deal…
03/13/2014 Blast Off To Florida Jets – And We Did!
02/28/2014 2014 WRAM Show
02/15/2014 Price Increase On Jeti Transmitters Coming Soon
02/13/2014 Jeti In Japan