04/22/2014 New Jeti Momentary Button Switch
04/18/2014 Team Pilot David Soufer Shows It Off
04/18/2014 Demon Meet Joe
04/15/2014 Getting Low With Joe Smith At SEFF 2014
04/14/2014 Meet Josh Brannon
Not everyone starts off in the RC World. Josh Brannon did not. Josh was exposed to aviation during his time in the Marine Corps. With working with Helicopters and Tilt-Rotors as a mechanic, supervisor, Quality Assurance, and a maintenance controller, for ten years, his passion for the hobby grew. In 2012 Josh started RC Flight with a Raptor 30 Nitro Helicopter. Soon after he ventured into electric powered Helis and has not looked back. Flying is not all Josh enjoys. " I enjoy flying my models, but I enjoy building and working on them just as much", he states. Being in the full scale helicopter industry for nearly 18 years, Josh enjoys bringing his expertise into his love of the RC hobby.
You can find Brannon flying at E-Week, Frosty Dog Fun-Fly, IRCHA, Joe Nall, and Heli Extravaganza. We look forward to seeing you on the field. Welcome to Jeti USA!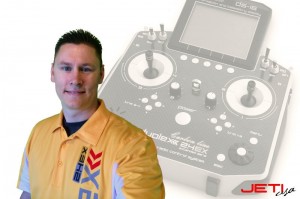 04/14/2014 Meet Jeff "Moose" Maruschek
04/07/2014 Weak Signals Coverage: Jeti USA
04/07/2014 Jeti and Bavarian Demon Team
04/04/2014 Jeti Pilots Hard At Work
03/31/2014 Lifting Up The Stars!
03/28/2014 Jeti Equipped Jets
03/28/2014 We Have Grown!
03/28/2014 Jeti Update: Version 3.20 for R3/RSW, R4US, R5US, R6US, R7-9-11US, R14-18US Receivers
03/25/2014 It's Kind of A Big Deal…
03/13/2014 Blast Off To Florida Jets – And We Did!
02/28/2014 2014 WRAM Show
02/15/2014 Price Increase On Jeti Transmitters Coming Soon
02/13/2014 Jeti In Japan
02/05/2014 Meet "Oat"
02/04/2014 Nurnberg Toy Fair 2014
02/02/2014 Jeti's New Toys
01/29/2014 For The Love of the Hobby!
01/24/2014 Meet David Soufer
01/23/2014 Welcome to Team Jeti USA!
01/23/2014 Meet Jim McEwen
01/18/2014 Meet Ashleigh Heath
01/15/2014 AMA Expo, Ontario, California, January 10-12, 2014!!!
01/15/2014 Joe Smith's Portable Charging Station with Jeti Wireless Telemetry!!!
01/11/2014 Thank You!
01/10/2014 On Our Way!
01/09/2014 Welcome to Jeti USA!
12/20/2013 Early 2014, Jeti Duplex DS-14 2.4GHz Radio System ($1090.00)!!!
12/20/2013 Thanks For Having Us Orlando
11/15/2013 Congratulations Donald Corum!!!
11/13/2013 Brand New DS-16 Carbon Limited Edition
11/05/2013 Heli Smackdown 2013
11/05/2013 Congrats to Jeti USA Team Pilot Jeff Tolomeo!
10/28/2013 New Video From Model Aircraft
10/25/2013 Best In The West Jet Rally Recap
10/20/2013 Jeti Back in Stock!