07/22/2014 Order Pick Up At IRCHA!
07/21/2014 Congrats!
07/16/2014 DS-14 Basic In The Headlines!
07/16/2014 The Guys Are Back!
07/15/2014 HiCOPTERS In Detail
07/15/2014 New From Jeti – MSpeed 450 EX Sensor
07/07/2014 Where In The World Is Peter Vogel?
07/02/2014 New From Jeti USA: DS-14 Basic
06/25/2014 Jeti Pilot David Soufer Shows Off His New Bandit
06/24/2014 Road Trip!
06/23/2014 Jeti USA Is Now On Amazon
06/14/2014 Jeti Team Member Event Recap
06/06/2014 How To Make Your Jeti Tx A Virtual Caller
06/04/2014 Wireless Trainer Setup
06/04/2014 EDF Jet Jam 2014
05/29/2014 Joe Grice Goes Jeti
Joe Grice, a renowned modeler and builder converts his Me163 Komet to the Jeti System. His Me163 is equipped with the Central Box 200, two R3 receivers, and an MSpeed Telemetry Sensor. It is powered by an AMT Netherlands Olympus Turbine Engine. Joe Grice made the transition a few short months ago, and since then has become quite versed in Jeti programming. Along with Joe, many of his friends have also converted their aircraft to Jeti and will often get together for flying or programming sessions. Thanks Joe for being active in the hobby society!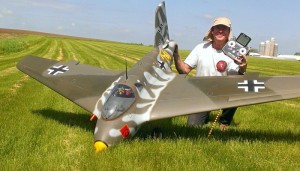 05/29/2014 Jeti Central Box Update is Out
05/20/2014 New Training Video from Our Jeti Pilot Peter Vogel
05/14/2014 AUVSI Show A Must See!
05/01/2014 Firmware Version 3.0 For Jeti Transmitters Now Available
05/01/2014 New DS/DC-16 Manual Available
04/23/2014 Meet Richard Bohn
04/23/2014 DS-14 – It's Official
04/22/2014 New Jeti Momentary Button Switch
04/18/2014 Team Pilot David Soufer Shows It Off
04/18/2014 Demon Meet Joe
04/15/2014 Getting Low With Joe Smith At SEFF 2014
04/14/2014 Meet Josh Brannon
04/14/2014 Meet Jeff "Moose" Maruschek
04/07/2014 Weak Signals Coverage: Jeti USA
04/07/2014 Jeti and Bavarian Demon Team
04/04/2014 Jeti Pilots Hard At Work
03/31/2014 Lifting Up The Stars!
03/28/2014 Jeti Equipped Jets
03/28/2014 We Have Grown!
03/28/2014 Jeti Update: Version 3.20 for R3/RSW, R4US, R5US, R6US, R7-9-11US, R14-18US Receivers
03/25/2014 It's Kind of A Big Deal…
03/13/2014 Blast Off To Florida Jets – And We Did!
02/28/2014 2014 WRAM Show
02/15/2014 Price Increase On Jeti Transmitters Coming Soon