05/01/2014 Firmware Version 3.0 For Jeti Transmitters Now Available
05/01/2014 New DS/DC-16 Manual Available
04/23/2014 Meet Richard Bohn
Richard Bohn has been flying pattern planes since the late 70's. After nearly a 30 year hiatus he decided to return to the joyful art of RC aircraft in 2013. Still flying pattern, Rich entered into a competition in December 2013. There he won the Sportsman category. His recent win has inspired him to move forward in the competition world, trying his hand at Intermediate. 2014 has so far yielded Rich two competitions, a 1st and 3rd place trophy, and a goal. "I'm looking forward to mounting a winning regional/nation campaign this year!" declares Rich. Good luck Rich and welcome to Jeti USA!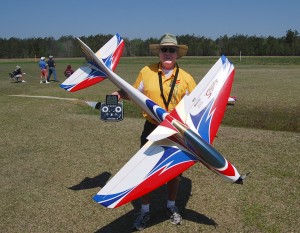 04/23/2014 DS-14 – It's Official
04/22/2014 New Jeti Momentary Button Switch
04/18/2014 Team Pilot David Soufer Shows It Off
04/18/2014 Demon Meet Joe
04/15/2014 Getting Low With Joe Smith At SEFF 2014
04/14/2014 Meet Josh Brannon
04/14/2014 Meet Jeff "Moose" Maruschek
04/07/2014 Weak Signals Coverage: Jeti USA
04/07/2014 Jeti and Bavarian Demon Team
04/04/2014 Jeti Pilots Hard At Work
03/31/2014 Lifting Up The Stars!
03/28/2014 Jeti Equipped Jets
03/28/2014 We Have Grown!
03/28/2014 Jeti Update: Version 3.20 for R3/RSW, R4US, R5US, R6US, R7-9-11US, R14-18US Receivers
03/25/2014 It's Kind of A Big Deal…
03/13/2014 Blast Off To Florida Jets – And We Did!
02/28/2014 2014 WRAM Show
02/15/2014 Price Increase On Jeti Transmitters Coming Soon
02/13/2014 Jeti In Japan
02/05/2014 Meet "Oat"
02/04/2014 Nurnberg Toy Fair 2014
02/02/2014 Jeti's New Toys
01/29/2014 For The Love of the Hobby!
01/24/2014 Meet David Soufer
01/23/2014 Welcome to Team Jeti USA!
01/23/2014 Meet Jim McEwen
01/18/2014 Meet Ashleigh Heath
01/15/2014 AMA Expo, Ontario, California, January 10-12, 2014!!!
01/15/2014 Joe Smith's Portable Charging Station with Jeti Wireless Telemetry!!!
01/11/2014 Thank You!
01/10/2014 On Our Way!
01/09/2014 Welcome to Jeti USA!
12/20/2013 Early 2014, Jeti Duplex DS-14 2.4GHz Radio System ($1090.00)!!!
12/20/2013 Thanks For Having Us Orlando
11/15/2013 Congratulations Donald Corum!!!
11/13/2013 Brand New DS-16 Carbon Limited Edition
11/05/2013 Heli Smackdown 2013