01/15/2014 AMA Expo, Ontario, California, January 10-12, 2014!!!
01/15/2014 Joe Smith's Portable Charging Station with Jeti Wireless Telemetry!!!
Telemetry technology has allowed the Radio Control industry to come a long way, and Jeti's Telemetry System is no exception! The Jeti Telemetry System of transceivers and sensors allows you to monitor multiple parameters occurring in your aircraft in real-time, but why limit the telemetry to aircraft only?
Impressed at the fast setup of a friends system, Joe Smith, a Jeti USA Team Pilot, was in search of the perfect charging setup. As Joe set out to build his own charging case, he was determined to solve the problems that have plagued RC enthusiasts for quite some time. When charging batteries, several issues can arise, no matter what setup you use. These problems can be as simple as a bad connector or as complex as a corrupt circuit on your charging board. If, or shall I say when (since these problems will occur at least once in a hobbyist's lifetime), a problem occurs the result can be troublesome. You can end up with batteries that do not have a complete charge, are over charged, or have cells that are extremely unbalanced. In extreme cases, your battery pack could overheat and ignite. In the past, the only solution was to monitor the entire charging process. Obliviously this is not an easy task as batteries can take anywhere from 15 minutes to 2 hours to charge.
After switching to the Jeti DS-16 Radio, Joe had become quite familiar with telemetry technology and its uses, which led him to the question
"If I could monitor and setup alarms for the temperature, voltage, current, and mAh usage of everything in my airplane while it was in the air, then why couldn't I do this with a charging case?"
The answer was that he could. We know that through the use of a MUI sensor we can now monitor voltage, current, and mAh usage between each charger and power supply, the voltage of each battery, the current going to each battery, and the mAh that have been put into each battery. Jeti's MULi 6S sensor allows us to see the voltage of each cell in each battery pack, and the MT125 sensor shows us the internal temperature of each charger as well as the temperature of each 12V power supply. Now that we know what we can see, the question remains how do we see it. For that, there are a few options. Of course you can view all this telemetry information directly on to your Jeti DS or DC transmitter, but that may not be most practical solution. Jeti's Profi Box is a device, about the size of an Apple iPhone 5, that with the use of a Jeti receiver can receive telemetry data. This allows the ability to monitor your charging batteries, with the convince of mobility. Using the JetiBox programming feature in the Profi Box, you can program audible alarms for each parameter you are monitoring.
Therefore, if a problem should arise, you will know instantly. The advent of modern telemetry systems have not only given great insights about our aircraft during flight, but have simplified the processes that were once troublesome. With the line of Jeti Products, these systems are easily available, and as we are learning, the possibilities are endless.
For More Information Visit:
http://www.rcgroups.com/forums/showthread.php?t=2032864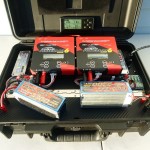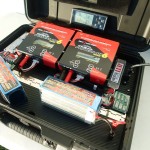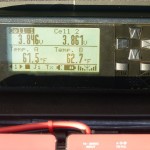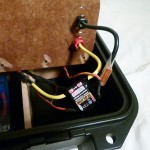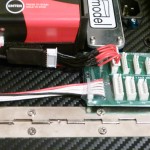 01/11/2014 Thank You!
01/10/2014 On Our Way!
01/09/2014 Welcome to Jeti USA!
12/20/2013 Early 2014, Jeti Duplex DS-14 2.4GHz Radio System ($1090.00)!!!
12/20/2013 Thanks For Having Us Orlando
11/15/2013 Congratulations Donald Corum!!!
11/13/2013 Brand New DS-16 Carbon Limited Edition
11/05/2013 Heli Smackdown 2013
11/05/2013 Congrats to Jeti USA Team Pilot Jeff Tolomeo!
10/28/2013 New Video From Model Aircraft
10/25/2013 Best In The West Jet Rally Recap
10/20/2013 Jeti Back in Stock!
10/18/2013 We Made the Cover, DS-16 Review Now Available!
10/17/2013 Come Visit Us At The Best In The West!
10/09/2013 Jeti Duplex DS-16 Sequencer
10/07/2013 Heli Extravaganza Video
10/04/2013 The Story Continues, Introducing the Brand New, Jeti Duplex DS-14 2.4GHz Radio System ($1090.00)!!!
10/03/2013 News Flash
10/03/2013 Heli Extravaganza and E-Week Pictures!
10/01/2013 A Happy Customer Makes A Happy Company!
10/01/2013 E-Week from Tom!
09/25/2013 We Are Back!
09/20/2013 Hats off to Jeanette Hibpshman
09/20/2013 Central Boxes Are On The Way!
09/20/2013 HiCopters Now IN Stock!!!
09/20/2013 DS-16 Carbon Limited Edition Just Arrived
09/06/2013 New Apparel In-Stock!
09/04/2013 Available For Pre-Order: Jeti DS-16 Carbon Limited Run Special Edition
09/04/2013 Available For Pre-Order: Jeti DC-16 Carbon Limited Run Special Edition
08/28/2013 Jeti USA Press Release (Jeti USA 2/50 Warranty)!!!
08/27/2013 New Apparel Line!
08/23/2013 Jeti Central Box 200 Power Distribution Unit
08/23/2013 Transmitter Tray w/Light Shipping Damage for Sale
08/22/2013 New From Jeti: Jeti High Voltage Capacitor Module AddCap
08/20/2013 Congrats!
08/15/2013 Store Demo DC-16 for Sale
08/13/2013 New Transmitter Trays
08/08/2013 IRCHA – Supporters
08/08/2013 IRCHA – A Sight to Behold
08/08/2013 IRCHA – Esprit Model / Jeti USA Booth
08/07/2013 Congrats!
08/07/2013 The Happy Flyer – A Love Story
07/31/2013 Jeti Team USA
07/31/2013 Win a DS-16 at IRCHA!
07/29/2013 Jeti Over 200,000 Views!
07/16/2013 Save on Shipping!
07/16/2013 Back in Town
07/12/2013 On The Road Again
07/10/2013 Customer Flare
07/08/2013 Jeti Duplex DS-16 Stick Tension Throttle Ratchet, and Gimbal Adjustment
07/02/2013 Coming to a Screen Near You
06/25/2013 Jeti Duplex DS-16 Unboxing Video
06/11/2013 Sebastian Vettel, James Moy, DJI S800 & Jeti DC-16 Radio System at Formula 1 Grand Prix Race in Monaco 2013!!!
06/11/2013 True 21st Century Precision & Quality!!!
06/11/2013 Jeti Duplex 2.4GHz Dual Path, True Redundant RF Link!!!
06/11/2013 Jeti Duplex 2.4GHz Device Explorer, True Wireless Programming Link!!!
06/02/2013 Jeti Forum Hits 150,000 Views
05/23/2013 Jeti USA Flight Team!!!
05/23/2013 DS-16 In Stock!
05/22/2013 New Jeti Transmitter Work Mat
05/15/2013 New Jeti Electronic Switch Dual Redundant with Magnetic Key DSM 10
05/14/2013 Shipping of Jeti DS-16 is Firing on All Cylinders!!!
05/14/2013 A Friendly Reminder....
05/07/2013 Jeti R4L/R4i/R5L/R5i Receivers are FCC Certified
05/02/2013 New Jeti SBEC 40
04/30/2013 Jeti DS-16 Takes Home "Best New RC Product"
04/30/2013 New Mezon Lite ESC
04/30/2013 Coming Soon – DS-16/DC-16 Firmware Update