03/31/2014 Lifting Up The Stars!
03/28/2014 Jeti Equipped Jets
03/28/2014 We Have Grown!
03/28/2014 Jeti Update: Version 3.20 for R3/RSW, R4US, R5US, R6US, R7-9-11US, R14-18US Receivers
03/25/2014 It's Kind of A Big Deal…
03/13/2014 Blast Off To Florida Jets – And We Did!
02/28/2014 2014 WRAM Show
02/15/2014 Price Increase On Jeti Transmitters Coming Soon
02/13/2014 Jeti In Japan
02/05/2014 Meet "Oat"
Husakul Suvunnapaph, better known as "Oat" to hobby enthusiasts, needs no introduction. His work with Insane Canopy is only one of Oats great talents. Starting in the realm of fixed wing aircraft, oat began flying. His first airplane was a Hobby Shack Trainer 40. After three years of advancing in the fixed wing world, Oat had an itch for something new. After being introduced to Helicopters there was no going back for Oat, he found his love. Getting started on a 50 size Nitro Heli fifteen years ago, Oat now flys Kasama Helicopters. "I dropped all my other hobbies including nitro on road 1/8 RC cars, fixed wing, and go karts so I can fly helis most of the weekend," Says Oat. When he is not flying, he is busy with Insane Canopy, a company that specializes in customized canopy designs. Thanks for going our team Oat! Can't wait to see you on the field.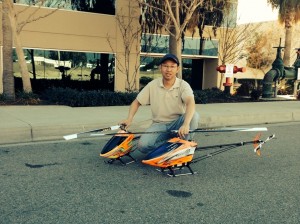 02/04/2014 Nurnberg Toy Fair 2014
02/02/2014 Jeti's New Toys
01/29/2014 For The Love of the Hobby!
01/24/2014 Meet David Soufer
01/23/2014 Welcome to Team Jeti USA!
01/23/2014 Meet Jim McEwen
01/18/2014 Meet Ashleigh Heath
01/15/2014 AMA Expo, Ontario, California, January 10-12, 2014!!!
01/15/2014 Joe Smith's Portable Charging Station with Jeti Wireless Telemetry!!!
01/11/2014 Thank You!
01/10/2014 On Our Way!
01/09/2014 Welcome to Jeti USA!
12/20/2013 Early 2014, Jeti Duplex DS-14 2.4GHz Radio System ($1090.00)!!!
12/20/2013 Thanks For Having Us Orlando
11/15/2013 Congratulations Donald Corum!!!
11/13/2013 Brand New DS-16 Carbon Limited Edition
11/05/2013 Heli Smackdown 2013
11/05/2013 Congrats to Jeti USA Team Pilot Jeff Tolomeo!
10/28/2013 New Video From Model Aircraft
10/25/2013 Best In The West Jet Rally Recap
10/20/2013 Jeti Back in Stock!
10/18/2013 We Made the Cover, DS-16 Review Now Available!
10/17/2013 Come Visit Us At The Best In The West!
10/09/2013 Jeti Duplex DS-16 Sequencer
10/07/2013 Heli Extravaganza Video
10/04/2013 The Story Continues, Introducing the Brand New, Jeti Duplex DS-14 2.4GHz Radio System ($1090.00)!!!
10/03/2013 News Flash
10/03/2013 Heli Extravaganza and E-Week Pictures!
10/01/2013 A Happy Customer Makes A Happy Company!
10/01/2013 E-Week from Tom!
09/25/2013 We Are Back!
09/20/2013 Hats off to Jeanette Hibpshman
09/20/2013 Central Boxes Are On The Way!
09/20/2013 HiCopters Now IN Stock!!!
09/20/2013 DS-16 Carbon Limited Edition Just Arrived
09/06/2013 New Apparel In-Stock!
09/04/2013 Available For Pre-Order: Jeti DS-16 Carbon Limited Run Special Edition
09/04/2013 Available For Pre-Order: Jeti DC-16 Carbon Limited Run Special Edition
08/28/2013 Jeti USA Press Release (Jeti USA 2/50 Warranty)!!!
08/27/2013 New Apparel Line!
08/23/2013 Jeti Central Box 200 Power Distribution Unit
08/23/2013 Transmitter Tray w/Light Shipping Damage for Sale
08/22/2013 New From Jeti: Jeti High Voltage Capacitor Module AddCap
08/20/2013 Congrats!
08/15/2013 Store Demo DC-16 for Sale
08/13/2013 New Transmitter Trays
08/08/2013 IRCHA – Supporters
08/08/2013 IRCHA – A Sight to Behold
08/08/2013 IRCHA – Esprit Model / Jeti USA Booth
08/07/2013 Congrats!
08/07/2013 The Happy Flyer – A Love Story
07/31/2013 Jeti Team USA
07/31/2013 Win a DS-16 at IRCHA!
07/29/2013 Jeti Over 200,000 Views!
07/16/2013 Save on Shipping!
07/16/2013 Back in Town
07/12/2013 On The Road Again
07/10/2013 Customer Flare
07/08/2013 Jeti Duplex DS-16 Stick Tension Throttle Ratchet, and Gimbal Adjustment
07/02/2013 Coming to a Screen Near You