05/07/2013 Jeti R4L/R4i/R5L/R5i Receivers are FCC Certified
Affordable and still made with the Jeti quality you've come to love and respect this new receiver by Jeti offers a great way to gain basic telemetry options on a budget. With a 2 year warranty against manufacture defects, and a 50% crash replacement option, how could you go wrong?
Jeti R5 receivers were developed as classic 5-Channel receivers with additional auxiliary port to be used as add-on to R18, R14, R11, R9, R7 receivers (Plugged to the SAT Port). Sort of sat/remote/auxiliary receivers. With R5L and R5i you have two receivers in one, this is an excellent value.
(Full Story)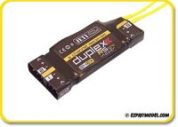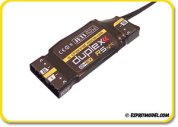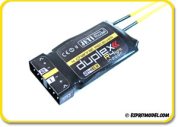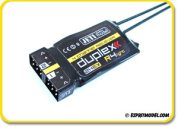 05/02/2013 New Jeti SBEC 40
04/30/2013 Jeti DS-16 Takes Home "Best New RC Product"
04/30/2013 New Mezon Lite ESC
04/30/2013 Coming Soon – DS-16/DC-16 Firmware Update
04/29/2013 Now In-stock Jeti R4L and R4iL Receivers!
04/26/2013 Look What I Got!
04/17/2013 Come See Us At SEFF!
04/16/2013 Jeti Duplex Power Management "Wireless Switch & Central Box"
04/13/2013 One Hundred Thousand Views!
04/11/2013 Does your ESC have a 50% crash replacement?
04/11/2013 Alarm for in Flight Turbine Shut Down!!!
04/11/2013 Fuel Consumption Monitoring for Jets!!!
04/09/2013 Production of Jeti DS-16 is up and Running!!!
04/08/2013 The Boys are Back!
04/03/2013 Jeti USA Press Release!!!
03/18/2013 Jeti Transmitter Stick with Rotary Control Knob
03/12/2013 FCC Update of Jeti Duplex DS-16 Radio System
03/09/2013 Look For Us!
03/09/2013 Hot Off The Press!
03/01/2013 New Jeti Phasor Motor
03/01/2013 Esprit Model and Jeti USA at Florida Jets Show
02/28/2013 Jeti R4US-R11US Receiver Firmware Update
02/25/2013 WRAM Show was an Incredible Success!
02/22/2013 Check out this week's newsletter!
02/20/2013 New Jeti Transmitter Accessories Coming Soon!
02/19/2013 Jeti USA and Esprit Model is On The Road Again
02/16/2013 New Features of the Jeti DC/DS-16 Software!!!
02/15/2013 New Mezon 130 RPM From Jeti!
02/15/2013 Jeti USA & Esprit Model $100.00 Promotion!!!
02/07/2013 New Jeti Products from Germany Nuremberg 2013
01/31/2013 New Jeti Products from Toy Fair Nuremberg 2013
01/24/2013 Jeti Duplex DC/DS-16 "Servo Sequencer"
01/23/2013 Jeti Transmitter Gimbal Assemblies
01/22/2013 Jeti USA Press Release!!!
01/22/2013 New Shipment of Jeti Mezon ESC
01/21/2013 Jeti Transmitter Trim Sticks G-Trim
01/10/2013 Programmable PPM Out Feature
01/03/2013 Jeti USA & Esprit Model at AMA Expo in CA
12/28/2012 Jeti Dual Receiver Input Switch EnLink 2RS
12/21/2012 New Jeti Spin Pro 80/100/160A SHED ESCs w/5A BEC
12/21/2012 New Jeti Duplex R6L/R6i/R5L/R5i 2.4GHz Receivers
12/15/2012 RC Sport Flyer Magazine Review of Jeti Duplex DC-16
12/14/2012 New Features of the Jeti 1.06.08 Software
12/13/2012 Jeti Duplex DS-16 is Finalized
12/12/2012 With Jeti Duplex DS-16 "You Are the Master"
11/23/2012 Jeti AFC 8mm Anti-Spark Connectors (300A)
11/23/2012 Jeti DC-16 Transmitter Trays
11/07/2012 Jeti 2.4GHz DC-16 and DS-16 Radios
10/24/2012 FCC Update DC-16, R11/9/7 & JetiBox Profi
10/23/2012 Final List of Jeti Duplex 2.4GHz Receivers
10/12/2012 Jeti Duplex Telemetry Overview
10/04/2012 Instruction Manual for Jeti DC-16 is Available
10/02/2012 Jeti Duplex Telemetry Vario & Mezon Application
09/29/2012 Jeti Duplex 2.4GHz Telemetry Overview!!!!
09/11/2012 New 1.05 Jeti DC/DS-16 Software Update
09/06/2012 Jeti Telemetry Variometer w/DC-16 Radio
09/05/2012 Jeti Mezon ESC Programming VIDEO
08/20/2012 Jeti DC-16 Tx Accessories & Replacement Parts
07/24/2012 Jeti Profi Box/Mezon 130/Neu 700-3D/Henseleit TDR 148.5mph (240km/h)
07/22/2012 Jeti Profi Box with Current/Voltage & Vario Sensors
07/18/2012 New Jeti DC-16 Firmware Update
07/16/2012 Jeti DC-16 Instruction Videos
07/02/2012 Jeti DC-16 Programing Videos